Enter The Chamber...
The Chamber Room is a Specialty Espresso & Brew Bar set in the serene Village Lane in Lake Street, Cairns. Over looking tropical gardens, enter another world. A world where Specialty coffee, tea & chocolate is honoured.
(aka we are NOT a CAFÉ)
Specialty Everything!
We have sourced (what we think) are the best products, to share with you.
Espresso Bar
The espresso bar features blends from Code Black Coffee Roasters. A top Melbourne Roaster who only uses the highest-grade green beans & are sourced from international farms.
Our quest to serve outstanding specialty decaf coffee was on! Code Black Coffee Roasters provided us with an impressive Colombian Sugarcane Decaf.
Ground on demand using Mythos One grinders & extracted on a Victoria Arduino 388 Black Eagle Gravimetric state of the art coffee machine.
Black or white? Chillax or takeaway? Simple, to the point & no fuss.
If you need sweetening, panela will be your only option. Panela is typical of Central America. Panela (or Rapadura) is derived from boiling & evaporation of sugar cane juice & will not alter the flavour of your brew but we ask that you taste before you adjust.
Warning:
TCR is a hub where adults can savour their brew without little disturbances…
No milkshakes.
No syrups.
No babycinos.
Brew Bar
Filter Coffee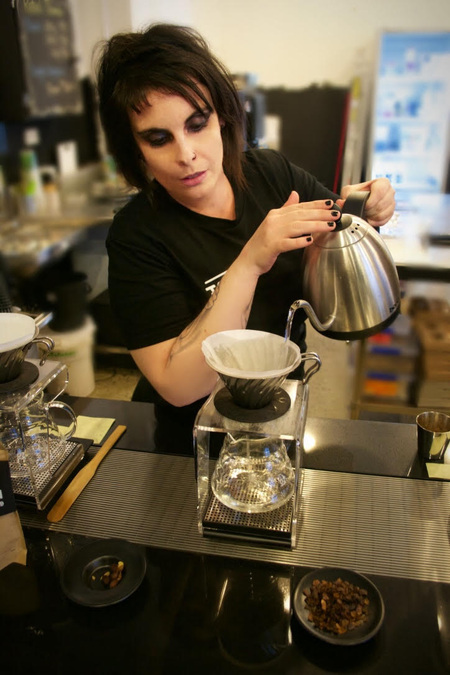 We believe that gentle brewing is the best method to experience the true flavour of the coffee.
Creating a bar where our guests can pull up a stool & interact with the baristas was truly the most important part of creating TCR.
Offering our guests an opportunity to hear the story about their brew, from tree to cup & experience black coffee in its true form. We realize that our guests know what they like & how they like it but TCR will push the boundaries with a massive focus on black coffee. If you dare to be different we will (hopefully!) rock your world!
TCR Brew Bar will see a rotation of Specialty Roasters from all over Australia including, Code Black Coffee Roasters, Proud Mary, Axil, Ona & Single O, just to name a few. An EK43 will stand proudly alongside Hario & Tiamo equipment, which in combo will extract your perfect brew right in front of yo skulls!
Not only do we brew coffee…
Specialty Tea
Somage Fine Foods presents Premium Organic Tea by Chamellia.
TCR would like you to experience a Tea Ritual. in our opinion tea deserves the same respect as coffee does so we have put together a beautify designed tea menu of black, green & tisane.
Hand picked from Ruhana, Sri Lanka's southwestern tea growing region, leaves will be infused to perfection using specific brew ratios just as we do with coffee. Immediately at the perfect brew time, the tea will be decanted & served to you at its ideal temperature.
TCR will also be offering Chamellia's Reserved Selection. This is a collection of the finest single origin teas sourced at peak flavour season. You could say it's the Geisha of tea. Some teas will offer a second infusion so chill out & savour.
Seasons may vary*
Specialty Chocolate
Pure handcrafted chocolate blends make up our hot chocolate menu.
Mork the Cacao Artisans of Melbourne have such respect & dedication to chocolate, there's no way they wouldn't be on our menu!
Mork is all natural, hand crafted using not so sweet ingredients, including cocoa powder, unsweetened blocks of chocolate, cacao liquor & unrefined coconut blossom sugar.
Original dark 70% has notes of stone fruit, almonds & ripe berries rounded off with hints of toffee & lingering dark chocolate.
Even darker 85% pure chocolate gives minimal sweetness with notes of an earthy spiciness, raisins & almonds.
P.S your request for marshmallows, will be denied…
Foodz
Allergen free foodz for you to snack on when you feel the buzzzz!
A selection of local & interstate treats, will keep your taste buds excited.
Check Facebook for our brunch menu, featuring house made specialty products...